ACCESSIBILITY
Kimbolton recognises the importance of inclusiveness and accessibility for all guests visiting cellar door and was awarded accessible tourism accredited in two areas - Accessible Tourism Limited Mobility and Accessible Tourism Wheelchairs and Scooters during June 2023.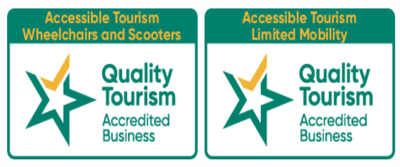 Download the Kimbolton Accessibility and Inclusiveness report HERE
PARKING
There are 2 accessible car parks on site. Ample parking is available and close to the cellar door. Drop Off Zone - Guests can be dropped off and picked up close to the front door.
ENTRANCE
The main entrance is accessible via a paved pathway from the car park. The entrance is a minimum of 850mm wide and step free.
CELLAR DOOR INFORMATION
Download Step Free Map HERE
Kimbolton provides alternative communication methods - telephone, email, booking on the website.
Kimbolton prefers guest book experiences as this helps eliminate guest wait times. Ample seating is provided just incase there is a short wait time.
Communication aids are provided and include a step free map, regional map and Kimbolton information). Visual tasting cards are also provided so everyone can be immersed in the Kimbolton experience. Plain english is used throughout cellar door.
Kimbolton staff provide a famil of cellar door when guests are seated.
Indoor seating (in the tasting room) and outdoor seating (back patio and front deck) is available. Seating includes both backrests and armrests. Tables are available at an appropriate height for someone using a seated mobility device (e.g. wheelchair, scooter) with leg clearance underneath table.
Lighting in the tasting room is even and glare free to aid lip readers.
VIEWING AREAS
Shaded areas are available on the front deck overlooking the sweeping views of the vineyards. There are chairs (spaces for carers/friends) to sit beside mobility devices.
REST ROOMS
There is an accessible and clear path to the rest rooms with signage (including braille)
There is one full accessible toilet and one ambulant toilet. Grab rails are installed. All gender accessible bathrooms are available. Doors to the rest rooms are easy to open. There is appropriate lighting in the rest rooms. The basin, soap dispenser and paper towel is at an appropriate height.
ACCESSIBILITY CONTACT DETAILS
Kate Clapton-Caputo
Kimbolton Cellar Door Supervisor
Phone: 08 8537 3002
Email: info@kimboltonwines.com.au