16 June 2023 | Kimbolton Wines
Bec Morse discovers new favourite boutique cellar door and go-to rosé
South Australian media personality Rebecca (Bec) Morse is a much-loved, revered and respected powerhouse when it comes to the fashion, lifestyle, travel and wine scene in our State.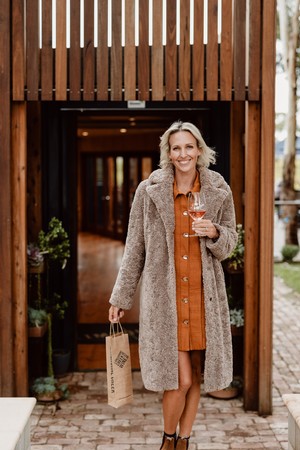 The successful entrepreneur, radio host, occasional TV presenter, magazine contributor and busy mother of three can regularly be seen out enjoying our great State on the weekends – and while her family home is in our beautiful capital city of Adelaide, she does enjoy the occasional visit to our magnificent regions – Langhorne Creek being one such destination.
During May, we were lucky enough to host Bec and her 20-year-old daughter Grace here at Kimbolton, and treated them to some of our favourite cellar door experiences – and were pleasantly surprised at just how much they loved it!
"I think the Langhorne Creek wine region is a bit of a hidden secret in SA and well worth the 50-minute drive from Adelaide. And this place, Kimbolton is just magnificent and so different to all of the other wineries I've visited before," says Bec.
"Grace and I were so impressed by the different vantage points of the beautiful vineyard – the design of this place gives you so many different places to view the winery from.
"When we arrived, we immediately drawn to the rooftop, which gave us a bird's eye view of the area and sees you sitting in the canopy of the beautiful big gum trees. From here, we headed downstairs where we took a seat with our drinks, looking out through the large open windows to the vines. The set-up of the Kimbolton Cellar Door gives you so many options of where to sit and enjoy the beautiful surroundings, and it had us wondering who we can bring along next time we visit in winter."
A visit to Kimbolton in winter is a great time to deepen your wine knowledge, enjoy different varieties and even take a stroll through the vineyards. While the vines are freshly trimmed off the back of a big vintage, the beauty of the vine regrowth, against a winter backdrop is quite stunning.
To get the best appreciation of our range, Bec and daughter Grace took the journey of discovery with our Wine and Cheese flight. Matching our wine with four local artisan cheeses, they took the time to smell and taste the wine, taking on board our recommendations to understand the flavour profiles a little more.
"We learned a lot from the Wine and Cheese flight. The Kimbolton team presented it beautifully and explained everything to us without it being an overwhelming or intimidating experience. Grace and I love our wine, but we're certainly no connoisseurs, so this was an excellent way of helping us to narrow down our favourites," says Bec.
A keen rosé drinker, the Kimbolton Montepulciano Rosé is an easy favourite for Bec, one which she pulls out when catching up with friends, or a casual dinner at home (she even popped a bottle open recently as her first tipple, following a three-week hiatus from alcohol - an incredibly worthy project she supported for charity).
"The rosé continues to be on high rotation at home, it's the perfect go-to wine. I'm happy to drink this one during the warmer and cooler months, and I've been getting my friends on to it as well."
Another favourite was Kimbolton's new rosé spritz in a can, which has fast become the drink of choice for Grace (20-year-old) and her girlfriends. Launched last summer, the spritz continues to gain popularity as a convenient and portable option for something with a refreshing bit of fizz (with the added bonus of a lower carbon footprint for the environmentally conscious drinker).
"While I still love my bottled wine, I also loved the Rose Spritz from Kimbolton too, and this was certainly a favourite for Grace (and now she's introduced to her friends as well)."
The other brilliant experience Bec loved from our Kimbolton Cellar Door experience was the vegetarian cheese platter.
"Sometimes it's hard to find vegetarian-friendly platters and grazing plates - but this one was completely unexpected, delicious and honestly one of the best I've ever had! The staff talked me through everything on the platter, so it was like a local history lesson in wholesome local produce," says Bec.
"It has a casual, family-friendly vibe, they even do a kid's flavoured milk tasting flight!"
Speaking of little surprises from the Kimbolton team, we also served up Bec and Grace with our famous affogato.
"Have the affogato! It was the perfect ending to our visit," says Bec.
This coffee-based treat, which literally drowns ice cream with a hot shot of espresso, is a delicious combination of warm and cold. Or if you're a tawny lover, then ask the team to swap out the coffee for some of our delicious 'Thelma' – a 15-year-old rare tawny named in honour of our Nanna, who was partial to a tipple or two of fortified.
"The Kimbolton Wines Cellar Door was that pleasant surprise that I wish I'd know about sooner. The place, the wine, the views, the people, the produce – it was such a special day to experience with my daughter."
"I also love the fact that it's a South Australian family owned and run business, and so close to Adelaide. Nicole (the owner) was so warm and welcoming. We can't wait to come back and restock!"