21 September 2019 | Kimbolton Wines
Kimbolton Wines Cellar Door wins Architecture and Landscape Award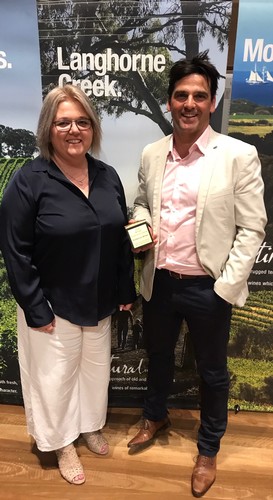 Langhorne Creek winery Kimbolton has been recognised in the Great Wine Capitals Best of Wine Tourism Awards. Kimbolton was awarded the Architecture & Landscape award for their innovative new cellar door built out of repurposed shipping containers.
The awards were announced on Friday September 20 at a luncheon hosted by the South Australian Wine Industry Association.
Designed by architect and builder Damien Chwalisz to sit in a shady woodlot overlooking the family's vines, the building's interior manages to be cosy and welcoming but within a robust hard wearing envelope.
The winery is family owned by Nicole Clark and her brother Brad Case "This is a very exciting moment for us. When we set out to build our first Cellar Door, we never anticipated the response that we have had since opening the doors in December last year," Nicole said
"We're very humbled to be recognised with this award. We think our Cellar Door design is unique and it's great to have that affirmation from others within the wine industry."
The Great Wine Capitals Best of Wine Tourism Awards celebrate innovation and excellence in wine tourism. Seven categories of awards are open to all wineries in South Australia to acknowledge innovation and excellence in wine tourism and recognise commitment to providing leading wine tourism experiences.
The Great Wine Capitals Global Network is a Network of ten major global cities that aims to encourage travel, education and business exchanges between the prestigious wine regions of Adelaide/South Australia, Bilbao/Rioja, Bordeaux, Lausanne, Mainz/Rheinhessen, Mendoza, Porto, San Francisco/Napa Valley, Valparaiso/Casablanca Valley and Verona.