22 May 2023 | Kimbolton Wines
Treat Your Little Connoisseurs to Kimbolton's Kids' Tasting Flight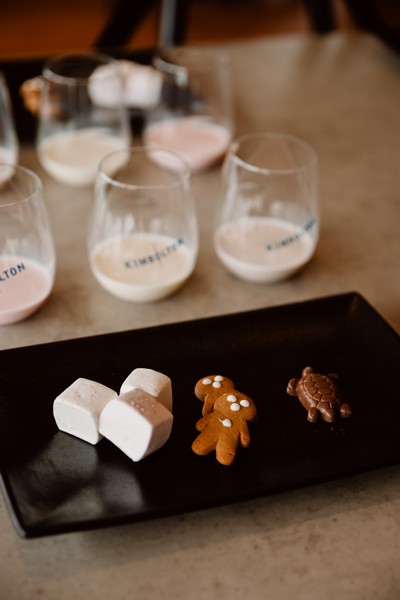 Looking for a unique way to spoil the kids while you take a moment to indulge?
The Kimbolton kids' flight is a deliciously fun treat for our littlest cellar door visitors – and it means they'll happily enjoy themselves while you relax with a tasting flight of your own!
When we established our cellar door, being family friendly was at the top of our list. With kids of our own, we know it can be hard to find wine experiences that cater for little ones. So, we introduced the kids' tasting flight to give our small connoisseurs their own indulgence. Now, as we head into the colder months, we're mixing it up with a sweet seasonal twist.
Our latest flight includes not one but three flavoured milks, paired with fluffy marshmallows, Perryman's Gingerbread babies and a Barossa Valley Chocolate Tommy Turtle. We also cater to dietary needs, with gluten and dairy free options available on request.
And to keep little hands and minds busy while they nibble and sip, each kids' flight comes with a packet of Kimbolton colouring pencils, an activity book and their very own bubbles.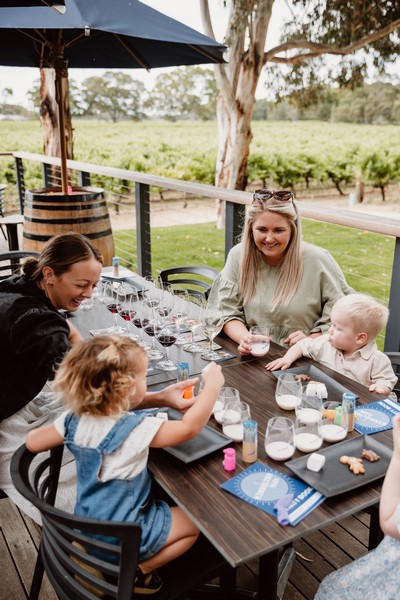 We love seeing the way this brings families together. Many head to the cellar door for a wine flight or tasting, or just relax with a glass of their favourite wine and one of our gourmet local produce platters. The Family Experience gives the adults plenty of time to chat, relax and enjoy a wine and cheese flight of their own, while the young ones have fun as well.
Families with older children enjoy the rooftop space. It's an ideal spot to soak up those sunny autumn days with a grazing box and a glass of red (or try a few with our seated tasting experience).
Out on the lawns, our selection of outdoor games is always a winner – although we do find some of the adults get more competitive than the kids! There's plenty of space outside to spread out with a pallet picnic under the beautiful gums, overlooking the stunning autumn colours in the vineyard.
Book your visit today and discover the perfect balance between wine indulgence and family fun!