2 November 2022 | New Release | Kimbolton Wines
Wine innovators Kimbolton release Rose Spritz in can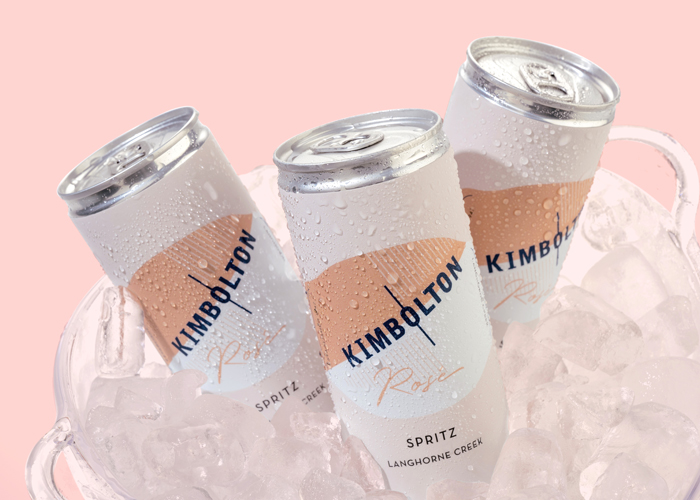 2 November 2022
MEDIA RELEASE
Wine innovators Kimbolton release Rose Spritz in can, first for Langhorne Creek
The Kimbolton Wines team has done it again – launching an innovative new product to put their Langhorne Creek wine in front of an even bigger crowd this summer.
The family-owned and run Kimbolton Wines has been leading innovation in Langhorne Creek's wine region since opening its award-winning cellar door in 2018. So it's no surprise that the forward-thinking minds behind the wine are also now the first in Langhorne Creek to shake up the industry, launching their new Rosé Spritz in a can.
Even better, the new spritz cans have been released just in time to become the 'go-to' summer drink.
The conveniently-canned and refreshingly delicious Kimbolton Rosé Spritz is the brain-child of Nicole Clark, one half of the brother and sister owned winery and cellar door operation. After seeing how popular both Kimbolton's Montepulciano Rose and Bella Monte Sparkling bottles had become among the younger wine market, Nicole reinvented the concept with a little bit of extra fun and fizz.
"With South Australians getting back out again this summer, enjoying being social and exploring new tastes, the timing is really perfect for a product like our Rosé Spritz cans to launch in the market," Nicole says.
"People already love our signature rosé, and our Bella Monte sparkling sells out every year – so we knew a product in this style would be popular, especially amongst those wine drinkers always looking to approach new styles.
"What we've created is a more convenient and conscious style of drink, but without compromising on the quality taste we're known for.
"The wine offers a delicate and lightly spritzed rosé with the hallmarks of a Carignan varietal and notes of red berry and raspberry flavours. The crisp and light finish makes it perfect to enjoy right now as the weather warms up."
In creating the new style of wine, Nicole and Brad have paid particular attention to ensuring the spritz cans deliver the same level of quality people have come to know and love from the Kimbolton range – and the result is sure to be another clear hit. Just ask Goolwa beachfront institution Kuti Shack, one of the many local restaurants to have added it to their wine list.
Nicole also made the point that the canned drinking options offered a more environmentally friendly option for conscious drinkers, with the transport and recycling of wine cans less intensive than bottles.
"It will be perfect for picnics, days at the beach, groups on the go, or even as an option to drink at home when you're not ready to pop a whole bottle of bubbles," Nicole says.
It isn't the first time this award-winning Langhorne Creek wine family has ventured outside of wine tradition though, after building their cellar door completely from shipping containers. This stand-out space has gone on to win accolades in the wine, architecture and tourism industries.
Following on from this, Nicole launched the increasingly popular monthly 'Beats and Eats' calendar from the Kimbolton cellar door – hosting monthly food and music events from their spectacular site and supporting South Australian food suppliers and musicians in the process.
Kimbolton then went on to lead a collaborative conservation project with four neighboring Langhorne Creek wineries and Monarto Safari Park – creating the 'Grapes for Good' wine trail, which has just been named winner of the Tourism Collaboration Excellence category in the Great Wine Capitals, Best of Wine Tourism Awards.
To taste Kimbolton's new Rose Spritz, you can purchase cans from their cellar door in Langhorne Creek, or buy online now at kimboltonwines.com.au.