Case Family History
1911 - Frank Potts II (Bleasdale Winery) purchased land in Langhorne Creek which is now the home block at Kimbolton and planted to vines.
1935 - Langhorne Creek Kimbolton vineyard was willed to Charles Dudley Potts (son of Frank II)
1947 - Henry and Thelma Case (Thelma daughter of Frank Potts II) purchase Kimbolton Langhorne Creek vineyard from Thelma's sister in Law Phyllis Mae Potts (Dudley's widow).
1966 - Len & Judy Case took over the running of the Langhorne Creek Kimbolton vineyard from Lens parents
2017 - Nicole & Brad take over the day-to-day running of the Langhorne Creek Kimbolton vineyard from Len & Judy.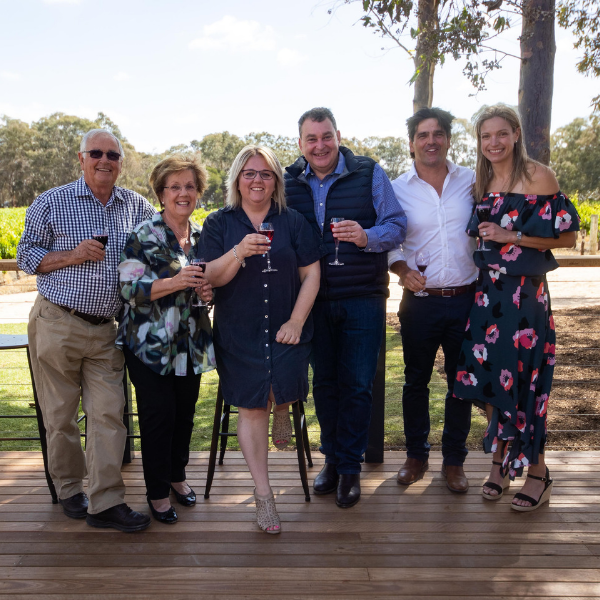 Len & Judy Case, Nicole & Chris Clark, Brad & Anna Case. 8th December 2018.
The Rifleman
The Kimbolton super premium range of wines, The Rifleman Series, is dedicated to the Riflemen in the family who have made us extremely proud of their achievements, representing both South Australia, and Australia. Between them, they have won several King's/Queen's aggregates and a prized world championship.
Len Case's involvement in the historic Langhorne Creek Rifle Club (operating from 1924 - 1984) is of significant importance to him and the family, particularly since his father, also a vigneron, was amongt the founding members and held the position of Club Captain.
Reward yourself today and grab a box of these luxurious wines to enjoy over the next decade or two, just like the Riflemen in our family did when they tasted success.
It is this strong family tradition that also led us to name our Wine Club, the Clubhouse.