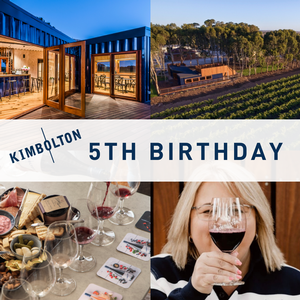 KIMBOLTON'S 5th BIRTHDAY – PAELLA PALOOZA
Join us for an unforgettable evening at Kimbolton's 5th Birthday – Paella Palooza!
Date: Saturday, December 9th
Time: 5:00 PM – 9:00 M
Venue: Kimbolton Cellar Door
Tickets -
Adult: $45
Child (12 & under): $20
Get ready for a flavor-packed fiesta with Paella Bar onsite for the night, featuring
scrumptious Paella options, including the sizzling Chicken & Chorizo and a delightful
Vegetarian (Vegan friendly) option. And let's not forget the sweet temptation of
mouthwatering Churros. Plus, rest easy knowing that all Paellas are GLUTEN, DAIRY, SOY,
and NUT FREE, making them coeliac friendly. And for Churro lovers, we've got you covered
with delectable GLUTEN-FREE Churros. While you savor these delectable treats, groove to the beats of Tommy Tequila, our Retro DJ, who will keep the party vibes alive throughout the night.
This is more than just an event; it's a celebration of five incredible years of Kimbolton. Put on you party shoes, gather your friends, and come be a part of the festivities. Kimbolton's 5th Birthday - Paella Palooza is your tickter to an evening filled with great food, fabulous entertainment and fantastic company. Don't miss out on the party of the year!