17 July 2023 | Kimbolton Wines
Savour the Taste, Support the Cause: Kimbolton Wine's Commitment to Wildlife Conservation
There's something very special about Kimbolton Wine's Cabernet Sauvignon – it's saving the cheetah from extinction.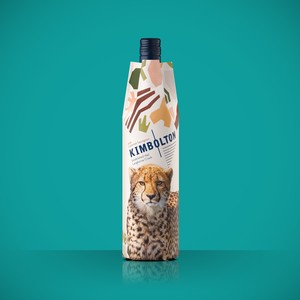 This wine's success story began in November 2020 when Kimbolton Wines joined forces with Monarto Safari Park to raise crucial funds for cheetah conservation efforts. The driving force behind this partnership was Kimbolton's Director, Nicole, and her family's unwavering love for animals. As long time Zoos SA members, they had the pleasure of unlimited entry to the park and were eager to give back to the wildlife they adored.
Nicole approached Monarto Safari Park's Director, Peter Clark, with her unique concept of combining wine and conservation efforts. He was immediately drawn to the idea and the partnership was born. The collaboration launched with the release of the 2018 Cabernet Sauvignon in April 2021, which was met with overwhelming success. In fact, the collaboration was so successful that it moved on to the 2019 vintage, which is now almost sold out. To date, this partnership has raised an impressive $35,000 for cheetah conservation.
The triumph of this collaboration inspired an even larger initiative to support wildlife. In 2021, five other Langhorne Creek wineries joined Kimbolton Wines to expand the Grapes for Good collaborative conservation project. This project is a true testament to the power of innovative partnerships and the incredible impact that can be made when people come together for a worthy cause.
Each winery supports an animal found at Monarto Safari Park with one of its wines. You can sample and collect a bottle of each of the wines by following the self-drive Grapes for Good Tasting Trail. It's a full day itinerary packed with wine tasting paired with six unique and delicious dishes – one at each stop along the trail.
On your stop at the Kimbolton Wines cellar door, guests can sit back and raise a glass of Fiano, knowing every sip is doing good. It also tastes especially good when paired with our matching dish – the Divine Dairy organic triple cream baked brie!
Grapes for Good is now receiving national and international recognition, winning the Tourism Collaboration Excellence Award at the SA Best of Wine Tourism Awards in 2022, and a global win at the 2023 International Best of Wine Tourism Awards.
We're delighted to see the success our initiative is receiving – not only in terms of recognition, but also in the much-needed funds raised for conservation – and, of course, the success of the Monarto Safari Park's cheetah breeding program!
Excitingly, Monarto Safari Park welcomed the arrival of three cheetah cubs this year – and we're thrilled to continue supporting their incredible efforts to secure the species' future.
So, the next time you visit us, pick up a bottle of our Grapes for Good wines, knowing that every sip will be doing good for our precious wildlife.